PROTECT THE PLANET
Responsible Production
OUR ECO STORY
From the Beginning
Since day one Fix has been dedicated to leading the snowboard binding industry with environmentally conscious production processes that are not only better for our production team, but also for the environment. We design our products and our production facility to eliminate toxic paints and lacquers, reduce disposable plastics and unnecessary packaging that typically ends up in the landfill. Our production waste is upcycled into usable products like the box that our bindings come in as well as the mounting hardware card that doubles as a wax scraper.
We do things differently in all aspects of our brand,
not only because we can, but because we should.
IN EVERYTHING WE DO
One Hundred Percent
100%
Paint Free Nylon
Not a single pair of Fix bindings has been painted or lacquered since we started producing bindings in 2015.  Not only does this make the bindings more scratch resistant and durable, but it also keeps harmful toxic aerosol paints out of the atmosphere and away from our production staff.
100%
Paint Free Aluminum
In 2021 we completely eliminated paint and lacquer from our aluminum components such as our adjustable heelcups and buckle levers making our bindings 100% aerosol paint and lacquer free.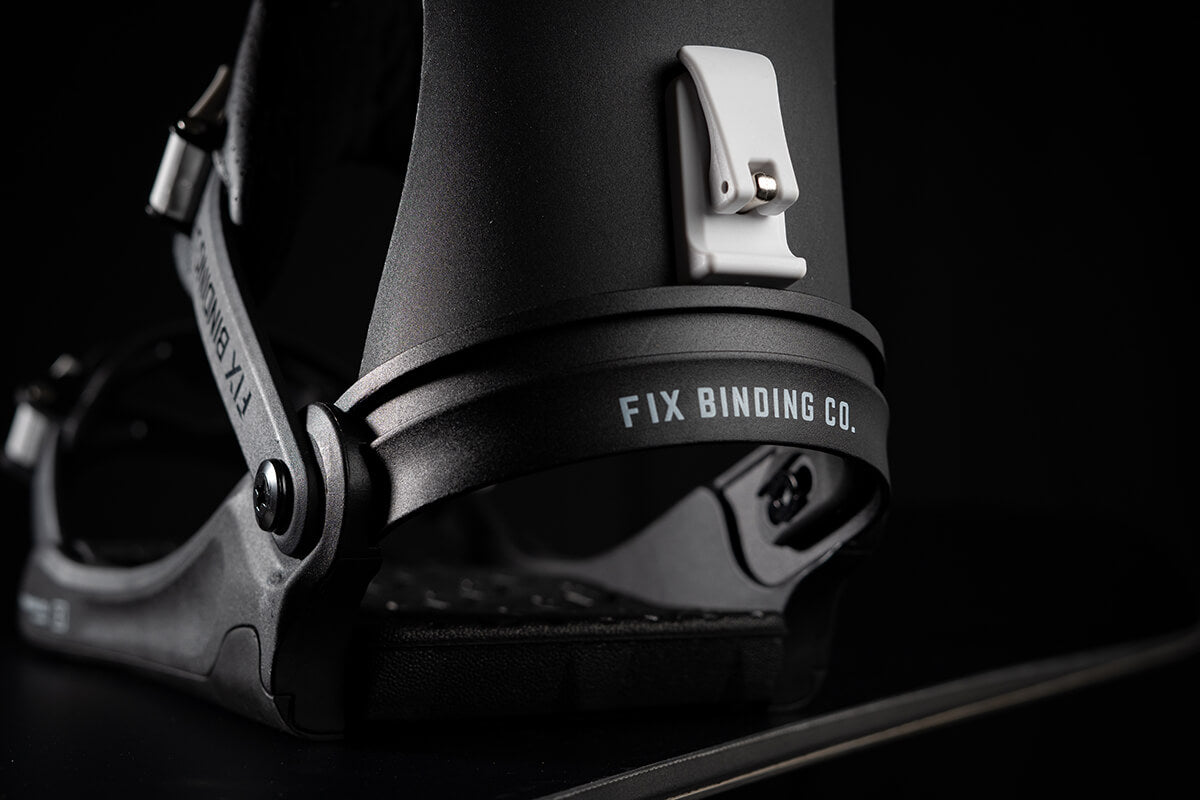 100%
Regrind Free Nylon
No old filler material in these bindings, our bindings are first shot, pure nylon…so where do we put our production waste?  We upcycle it into our own packaging.  As a matter of fact, we use so much regrind we've started using it from other industries and products keeping it out of the landfill.
SIMPLIFY EVERYTHING
We Reduce
REDUCED PLASTIC CONSUMPTION
Considerable attention and effort is being put towards reducing disposable plastics in our packaging that would otherwise end up in the landfill.
INTERCHANGEABLE COMPONENTS
By designing our products to have interchangeable components between models and model years, we eliminate the need for carrying hundreds of colors and styles of parts that if not used, would become obsolete and be wasted.  Interchangeability by design means that we use everything that we produce.
VIEW OUR BINDINGS
RESPONSIBLE INGENUITY
We Reuse
UPCYCLED REGRIND BINDING BOX
Our reusable binding box acts as a crate that you can use to organize your wax kit, organize your tools, use as garage storage bins, take beers to the lake or beach or even use as a planter.
UPCYCLED MOUNTING HARDWARE CARD
The M6 mounting screws come in a regrind plastic card that is designed to be saved and reused as a wax scraper.
VIEW MOUNTING HARDWARE
FULLY COMMITED
We Recycle
END OF LIFE RECYCLING PROGRAM
Send your old Fix bindings back to us and let us handle the proper recycling of the product and we will give you a 20% off code to our online store. 
It's that simple. 
CONTACT SUPPORT
THANKS FOR READING
Check Out Our Bindings